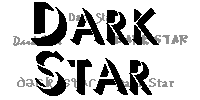 ---

Dark Star is the story of a mystical conflict playing out in a small Japanese town. Deities and demons clash in hidden battles, and love may prove to be the key to the fate of the world.
---
Extra Stuff
Artwork
Omake
Promise by John Evans WARNING! This story contains adult content. Reader discretion is advised. "Promise" was originally written for the (now defunct) ImproLemon Archive.
---
Questions? Comments? Rants? Raves? Submissions? Begging? Death threats? Sexual favors? If it has something to do with this site, email me.
---